St. Timothy's Episcopal School is a nurturing community of academic excellence that instills the knowledge, skills, and values for a life of purpose.
Our Episcopal School Identity
We are an intentionally inclusive community that seeks to model God's love and grace. We offer all students the strongest academic, intellectual, and spiritual foundations to guide them throughout their lives.
We are a Christian school that welcomes children of all faiths and no faith tradition.
We worship and pray together in the Episcopal tradition, and our middle school Religious Studies classes examine Christianity and other major world religions from an academic perspective. While all students will learn about the teachings of Jesus and the core beliefs of Christianity, we respect each family's personal choices on matters of faith.
We embrace faith and reason in the pursuit of truth and meaning.
We encourage students to begin exploring lifelong questions of existence, purpose, and meaning, hopeful that they will see how faith and reason might complement each other in this pursuit. This requires that we provide them with the strongest academic and intellectual foundations—in science, math, literature, history, languages, and the arts.
We teach that loving and serving others is an essential part of our calling.
Based on a belief that every person is uniquely created in the image of a loving God, we teach our students that they are called to treat all people with dignity, respect, and compassion. Our core belief in action-oriented love drives our extensive community service and servant leadership efforts, as well as our commitment to diversity and belonging within our own school community.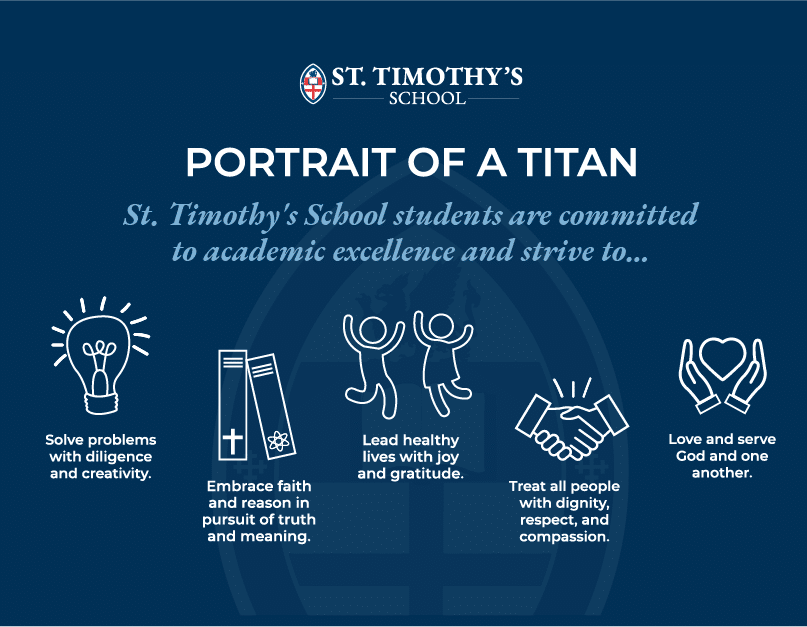 St. Timothy's School students are committed to academic excellence and strive to…
Solve problems with diligence and creativity.
Embrace faith and reason in the pursuit of truth and meaning.
Lead healthy lives with joy and gratitude.
Treat all people with dignity, respect, and compassion.
Love and serve God and one another.