Save the date for this year's Day of Giving, which will be March 6, 2024!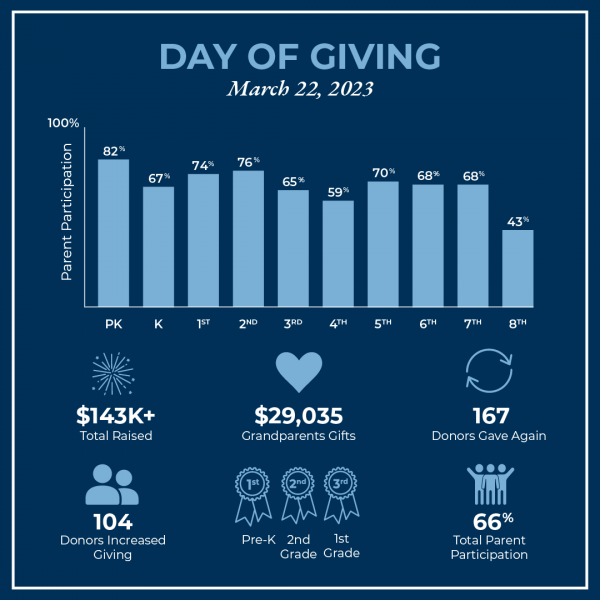 Thank you to the many supporters who made our second annual Day of Giving a huge success! You raised more than $143,000 in support of St. Timothy's School!
Congratulations to Pre-K parents for winning the Grade Level Challenge and to Judy Whitley '85 and Kim Balentine '77 for winning the alumni donor gift basket drawings. We had an astounding 167 donors participate in the Give Again Challenge unlocking a special gift for all of our teachers. Grandparents and alumni families came out in full force! It was a great day to be a Titan!
Thank you to our parent chairs who worked tirelessly to rally support for St. Timothy's School!
Pre-Kindergarten: Katy Downer, Amanda Gupton, Rachael Hawkey, Lauren Wieczorek
Kindergarten: Nate Anderson, Ashley Bennett, Caroline Ives
1st Grade: Asa Burnham, Natalie Norris, Mollie Quirke
2nd Grade: Thomas & Tiffany Barrier, Eric Clay & Chandra Callicutt-Clay, Phillip & Laura Simson
3rd Grade: Blair Kennedy, Sara McTyeire, Christina Valkanoff
4th Grade: Alexis Cooke, Tripp Lumpkin, Rebecca Manning
5th Grade: Sheryl Alford, Emily Goatcher, Francesca Panagos
6th Grade: Tyler Cunningham, Shannon Helm, Andrea Linhart
7th Grade: Brittany Bass, Casey Hale, Paige Marsh
8th Grade: Nina Bostic, Catherine Kibbe, Lacy McMahon