St. Timothy's School students are committed to academic excellence and strive to…
Solve problems with diligence and creativity.

Embrace faith and reason in pursuit of truth and meaning.

Lead healthy lives with joy and gratitude.

Treat all people with dignity, respect, and compassion.

Love and serve God and one another.
Meet a few of our graduates!
Mercer Webb
STS Class of 2017, Wake Forest University
"As a student at St. Timothy's School, I was encouraged to learn how to create a healthy school, life and service balance that has truly helped me succeed in college. I am committed to my studies and have also made time for being involved on campus and the Winston Salem community as a whole. I am so grateful for my short but sweet time at St. Timothy's and I still use the habits that I began in middle school."
Gordon Scholar at Wake Forest University

Studying Health and Exercise Science

Member of the Reformed University Fellowship and on the Traditions Council 

Involved with the International Justice Mission

Member of Kappa Delta Sorority

Works as an Admissions Ambassador
Will Walker
STS Class of 2018, The University of North Carolina at Chapel Hill
"At St. Timothy's School, I was provided with not only the resources and support necessary to excel as a student, but also to grow as a person and friend to those close to me. The wonderful staff and student body were always warm and welcoming. The many classes provided a strong academic challenge that helped push me and prepare me for the International Baccalaureate program in high school. I have the greatest memories of being a student at St. Timothy's and will always remember and cherish my time there."
Plans to study biology at UNC and then attend Veterinary school

Graduated

summa cum laude

International Baccalaureate Graduate

National Honor Society

Spanish Honor Society

Saint Michael's Episcopal Church acolyte

Saving Grace – Animals for Adoption volunteer

Food Bank of CENC volunteer

Employed at Hayes Barton Animal Hospital and Walker Auto Warehouse
Trace Alphin
STS Class of 2017, Wake Forest University
"St. Timothy's provided me with a platform for success that I wasn't aware of at the moment. Looking back, I can't thank those at St. Timothy's enough for providing a learning environment that encouraged growth and development. There is an uncountable number of lessons I learned at St. Timothy's that have followed me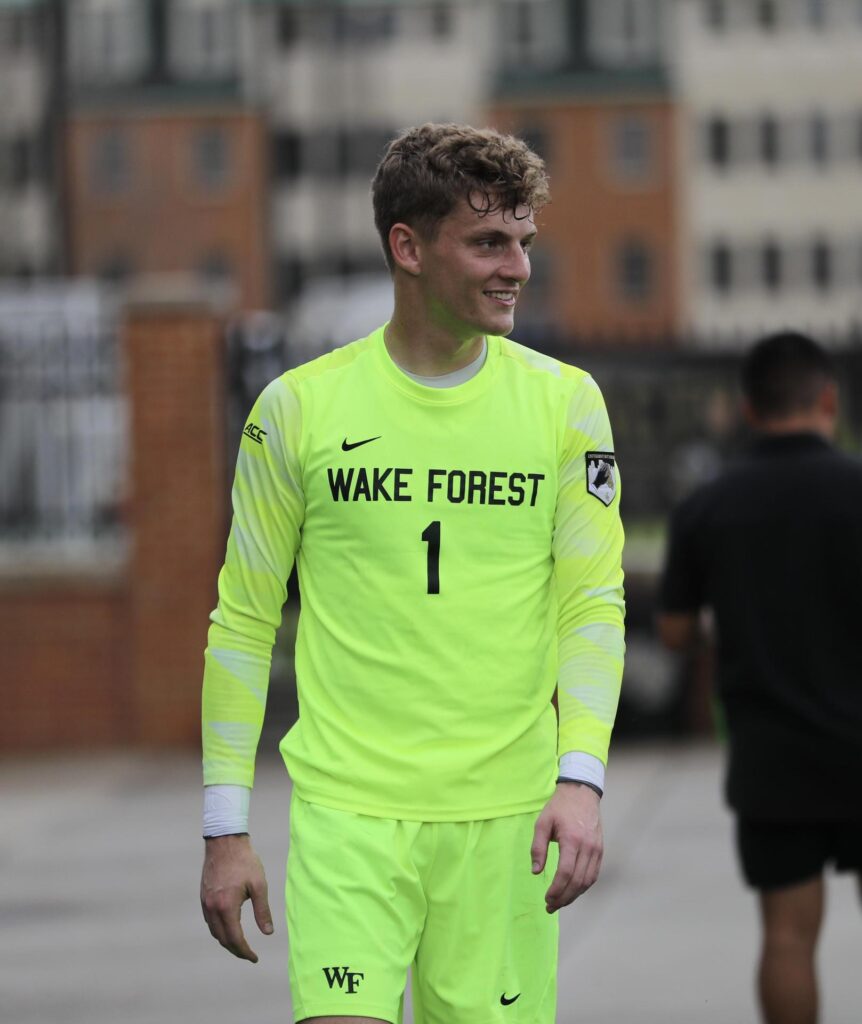 throughout high school and now into college. I am forever grateful for the eight short years I spent at St. Timothy's."
Goalkeeper for the Wake Forest Men's Soccer Team

Member of AIMS (Athletes In Medical Science) at Wake Forest

Health and Exercise Science Major and Psychology Minor

Member of the National Honor Society

Graduated from Crossroads FLEX High School with Magna Cum Laude Honors

Avid fan of Mr. Nowak's shoe collection
In the past four years, our graduates have matriculated to the following high schools:
American Heritage School (1)
Athens Drive High School (1)
Avon Old Farms School (1)
Broughton High School (22)
Cardinal Gibbons High School (110)
Cary Academy (4)
Charles B. Aycock High School (1)
Christchurch School (1)
East Chapel Hill High School (1)
Episcopal High School (1)
Green Hope High School (3)
Groton School (1)
Heritage High School (1)
Homeschooling (1)
Leesville Road High School (6)
Longleaf School of the Arts (1)
McCallie School (1)
Millbrook High School (10)
Neuse Charter School (1)
Online School (1)
Radnor High School (1)
Raleigh Charter High School (6)
Ravenscroft School (14)
Research Triangle High School (2)
Roanoke Catholic School (1)
Saint Mary's School (44)
Sanderson High School (29)
Santa Catalina School (1)
St. David's School (5)
St. Mark's School (1)
St. Thomas Moore Academy (1)
Thales High School (1)
The King's Academy Florida (1)
The Salisbury School (2)
Trinity Academy (1)
Virginia Episcopal School (2)
Wakefield High School (1)
Woodberry Forest School (5)